Language of flowers


Red roses stand for love, violets for modesty and the meaning of forget-me-nots is in the name. But other flowers have a meaning as well. And the story of the language of flowers not only goes a long way back, but is exciting as well.
The ABC of the language of flowers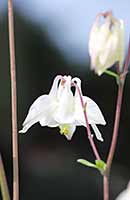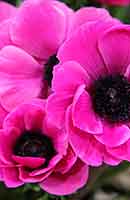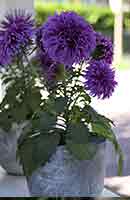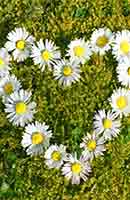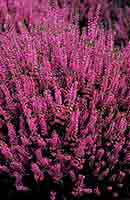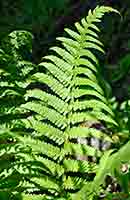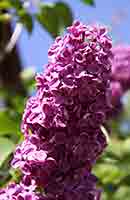 Would you like to play the harem lady or sultan and say something with flowers: express the first stirrings of love, ask for tenderness, dwell on sweet memories or tell of fiery passion? Here are the meanings of some flowers according to Frenchwoman Charlotte de Latour, who wrote the first book on the subject:
Aquilegia (columbine): extravagance

Anemone: devotion, tenderness

Aster: with a twinkling eye

Bellis (daisy): innocence, friendliness

Bouquet of flowers: gallant gesture

Erica (heather): you are everything to me

Fern: sincerity, reverie

Lilac: first stirrings of love

Freesia: treat me tenderly

Carnation: lasting beauty

Broom: purity

Bluebell: constancy

Wallflower: splendour

Dog rose: poetry

Hop: injustice

Hydrangea: I will warm your heart

Hyacinth: favour

Periwinkle: sweet memories

Iris: news

Jasmine: kindliness, beauty, love

Crown imperial (fritillary): you are majestic!

Cherry blossom: good up-bringing

Cherry laurel: if you could only decide …

Clematis: refinement

Cornflower: tenderness

Lavender: I would like to be as you want me to be

Stock: dignity

Stock (pale red): you are a goddess

Lily: majesty

Lotus: eloquence

Snapdragon: you make me waver in my good intentions

Lily of the valley: the return of happiness

Mallow: gracefulness

Marguerite: innocence

Mistletoe: I will overcome every obstacle

Poppy: comfort

Moss rose: sensual love

Myrtle: symbol of marriage

Narcissus: egotism; jealousy, because a Caliph's favourite wife always sent a bunch of narcissi when she

uspected he was with a concubine

Carnation (red): pure, deep love

Carnation (yellow): are you not interested in me?

Carnation (white): talent

Orange blossom: virginity

Daffodil: desire

Peony: shame

Passion flower: faith

Petunia: surprise

Primrose: youth

Buttercup: you have heavenly charms; you are simply enchanting

Calendula (marigold): let us enjoy our happiness

Delphinium: superficiality

Rose (red, single rose): I love you

Rose (white): silence

Rose petals: I am never insistent

Rosebud (white): heart that does not yet know love

Rosemary: your presence enlivens me

Snowdrop: love at first sight, love's awakening

Iris: I am hoping for a message from you

Sunflower: wealth

Dianthus: fineness

Pansy: like me!

French marigold: returning happiness

Thyme: activity

Tuberose: voluptuousness

Tulip: declaration of love and true feeling

Violet: modesty, patience, love

Forget-me-not: do not forget me

Wild rose: simplicity


Invented by harem ladies in love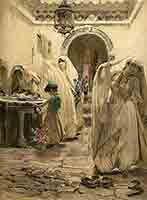 How did a harem lady of the past tell her Sultan that she loved him? She evidently said it with flowers. Because in the harems of the Orient, where no one dared to express their feelings openly, a sophisticated system of meanings was assigned to individual flowers and told your beloved whether you were waiting for him with longing, were hoping for a message ... or were jealous.

The language of flowers came to Europe through the letters of the English aristocrat Lady Mary Wortley Montagu, who was allowed access to the harems. She discovered this communication by flowers there and
was delighted that the harem ladies were amazingly skilled at expressing themselves with flowers.

Turkey's highly complex language of flowers was called Selam. To word messages as precisely as possible, not only was the type of flower important, but also its colour, the number of blooms in a bouquet, the age of the blooms and how they were arranged in the vase. Success produced an amazingly precise message, enabling you not only to express passion, love, friendship and rendezvous, but also to betray little secrets or even formulate reproaches. In other words, an angry harem lady didn't make a scene, she simply rearranged the flowers.

You'll find our selection of flowers HERE.
A Frenchwoman teaches the world to
The first book about the language of flowers originated in France, where Charlotte de Latour published a book listing the meanings of the different blooms in 1819. According to her book, asters meant "with a twinkling eye", while narcissi expressed "egotism and jealousy" and peonies "shame". The book was a bestseller, inspiring authors in other countries to follow suit. At first they adhered more or less to Latour's work. However, they soon became more and more inaccurate and in addition adapted their writing to local customs. For example, in England, where people tended to be prudish, everything that could have been perceived as shocking was left out.
But total confusion only ensued when the Americans discovered the language of flowers. As there was no equivalent in American English for the common English names of plants and the authors weren't exactly botanists, one and the same flower was sometimes listed under several names and with different meanings in the same book. That led to some sad misunderstandings. For this reason, people still generally go to Charlotte de Latour when they want to say it with flowers and "talk flowery" … or to a bouquet created by a professional.

You'll find our selection of flowers HERE.